EZ CUT, a cutter knife that even can be used when blindfolded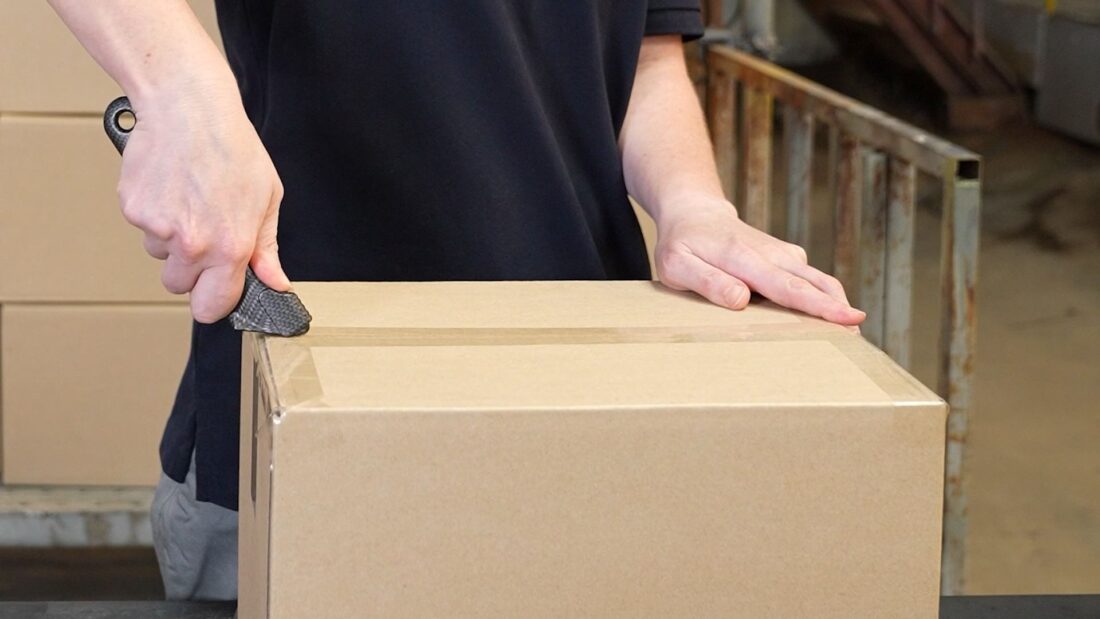 Nothing feels better than receiving the product that you've ordered online. However, it is a bit annoying when you need to unbox many boxes when they are wrapped with several layers of sticky tape for a safe delivery. People often throw the boxes away with tape remaining on the boxes. In this case, those boxes will not be able to recycle.
You have to be extra careful when opening the box using a cutter knife. You might hurt your self from the sharp blade or damage the product inside the box. Since the frequency of unboxing packages significantly increased after COVID-19 – people use online platforms to order the products more than before – wasted number of boxes also has been increased, but these inconveniences did have not been resolved.
If you have a cutter knife which can be used easily, safely and without hurting yourself and the product inside the box, unboxing will become a pure joy. The product which will be introduced now will make unboxing convenient without a doubt.
Safe and easy cutting, EZ CUT
EZ CUT, a cutter knife which now being funded on Kickstarter, is a perfect cutter knife for those who are looking for a safe cutter knife instead of the normal cutter knives that might hurt and damage yourself and the product inside the box. The blade designed for safe and easy cutting is the main difference between EZ CUT and other products. Since the blade is 6mm, shorter than a typical blade, product inside the package will not be damaged. Additionally, the blade is 1.8 mm thicker than a normal blade, making it more robust. It cuts nicely even though it is less sharp than a conventional blade and is considerably safer to use. EZ CUT can be used by anyone since the user will not get injured even if used when blindfolded. EZ CUT has L shaped supports on each side of the blade which hold the surface and let user to cut stably. With a regular cutter, you must press to support the section being cut with one hand while cutting the surface with the other. This is not necessary with EZ CUT.  You can use it with confidence because it won't slip even in fleeting moments of small negligence. Additionally, it has a magnet inside, allowing you to use it whenever you want by attaching it to your front door or refrigerator door.
Easy recycle with EZ CUT
The L shaped supports of EZ CUT holds flat, curved surfaces and as well as the edges of the box. With these supports, peeling labels from PET bottles becomes super easy. PET bottles and labels are made of different resins and can only be recycled if they are separated. There is a risk of being easily slipped and injured when cutting labels off the PET bottles with normal cutter knives. In contrast, EZ CUT minimizes slipping with its L shaped supports, making separation and recycling easier. You can also quickly remove the tape from the box with EZ CUT. The tape easily sticks on the regular cutter knife's blade, and it needs to be replaced when it becomes old. However, the blade of EZ CUT is coated with Teflon, leaving zero stickiness on the blade, allowing you to use the blade for a long time.
If you want to unbox your parcel easily and recycle conveniently, search EZ CUT on Kickstarter now!